About us
The first Rice & Carry bag was created in 2012 on Sri Lanka's east coast…
with the intention to draw attention to two things:
The ever increasing amount of plastic waste and the lack of solutions to avoid or recycle it.
The lack of employment opportunities for women.
What began as a 'side project' was primarily intended to sensitize people to the fact that waste can indeed be valuable and that we should handle our resources with care.
In addition, it was and is a matter close to our hearts to give women more self-determination through stable and family-friendly jobs. We are convinced that the entire society benefits from environmental protection and equal opportunities.
Today, this side project which was viewed with scepticism at the beginning, has become a social enterprise that has committed itself to the principles of fair trade from the very beginning. In the meantime…
… we collect and recycle more than 60,000 rice and jute bags and 120,000 plastic bottles per year
…we offer over 40 women a stable and secure job with fair pay
The heart of production is our factory in Komari, a small village on the east coast of Sri Lanka.
A team of 12 people works eagerly to make sure that the sewing machines rattle and all our seamstresses, who work from home, receive the necessary materials.
We also tinker for new products here, train our employees, wash and store our rice and jute bags and check and pack all finished products.
We would like to introduce some of these power women to you here: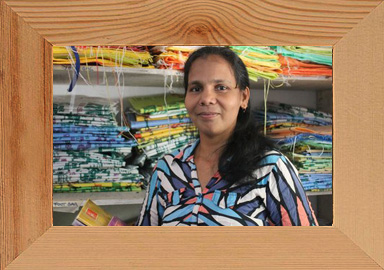 Nanthini
is with us since 2013 and was one of our first seamstresses in Komari. She quickly learned to make various products from rice and jute bags and is now significantly involved in the development of new designs. In addition to her talent at the sewing machine, she is great at training new employees. So it was no big surprise that she quickly became the team leader of our manufactory.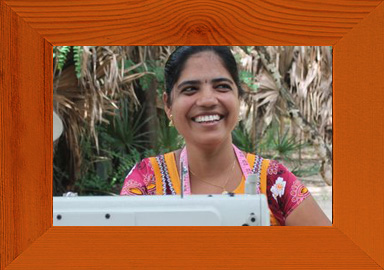 Sivanthini
also started with us in Komari in 2013 and worked its way through all production steps from washing and ironing the sacks to putting on the price tags. She held on to her goal of one day being at the sewing machine and so she is now the absolute queen of jute bags!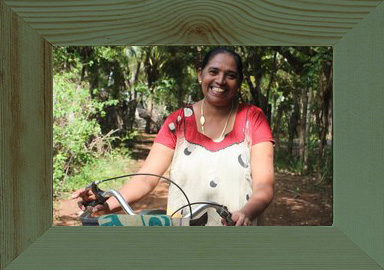 Malar
Besides her job with us as a seamstress, she also has a farm. Since she works from home, she can better coordinate both activities. She also cooks fantastic curries, which she likes to share with others when she comes to the manufactory. She always goes home with an empty lunch box and plenty of material for new products.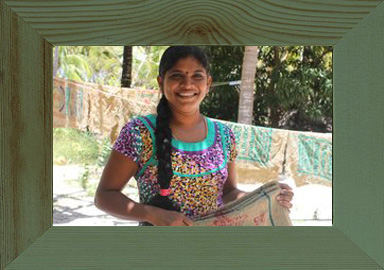 Induru
has been with us since 2014 and quickly became a respected team member. She knows how all our bag models are made of jute and is always happy to learn something new. Together with Nanthini she is the woman for special orders.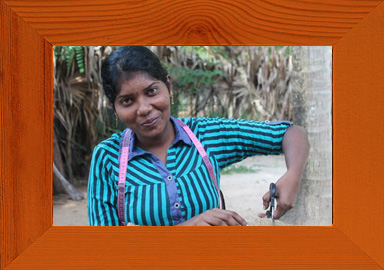 Malathi
got an apprenticeship at the manufactory in Komari in 2015 and she became quickly to a jute specialist. After her marriage, she works from home and usually comes to the manufactory in a Tuk Tuk to deliver all the products.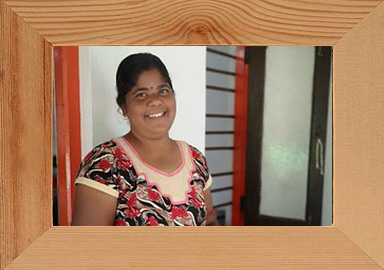 Komalathevi
has literally touched every Rice & Carry bag out there. She is responsible for washing and ironing all jute bags, rice bags and plastic bags that we reuse. She does a fantastic job!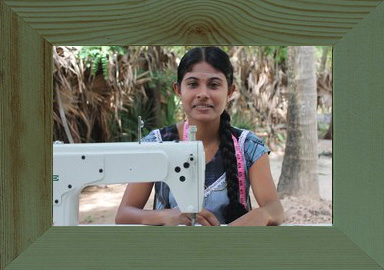 Pirashanthini
Strengthened the team of the Manufacture in Komari 2016 and was the youngest team member at the age of 16. She now rushes to work with her own scooter and is our power for custom-made products and samples.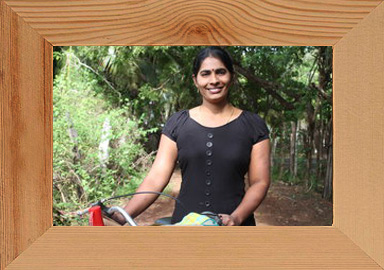 Udayarani
manufactures reversal bags in her house in Komari. At times she joins the production team to replenish her stock and exchange news with her colleagues.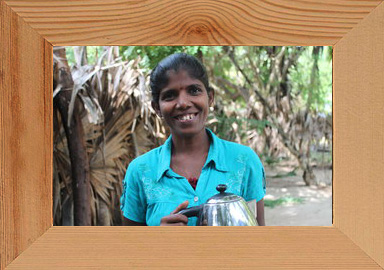 Vanitha
Ensures that every bag of rice and jute is washed and ironed, the garden is watered and the garbage is carefully separated. She also makes sure that everyone takes their well-deserved breaks with delicious tea.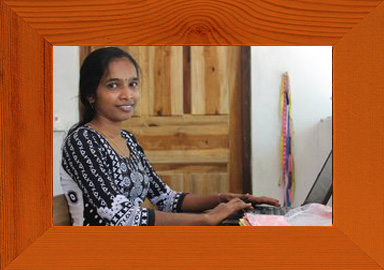 Jeyapiratha
Started working at the Manufacture in 2018 as a quality controller. Together with her two colleagues Dinuja and Niro, she not only monitors the quality of the products, but also orders and stock levels. Her care and attention to detail ensure that you can rely on the quality of our products.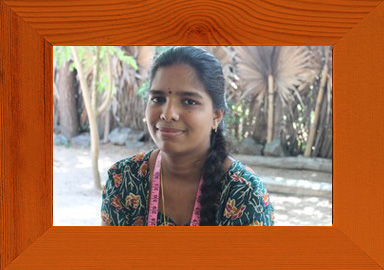 Danu
Joins the team of the Komari manufactory since 2020. 2 years before that, she had already spent 2 years at home, conjuring up all kinds of bags on her sewing machine. Now her son is old enough to go to school and a job as a seamstress has become available. We are happy to welcome the expert for laptop covers to the manufactory!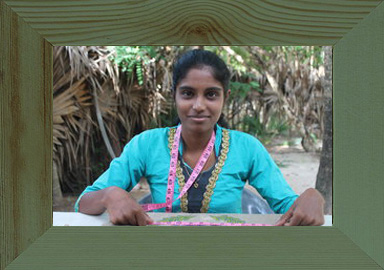 Sinthu
started working for Rice & Carry in early 2018, she is a calm and level-headed soul and completes the team perfectly. Currently her main focus is on the production of jute wallets.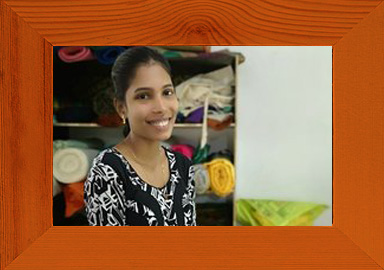 Dinuja
Support Jeyapiratha since 2019 and help her that only the best quality leaves our manufactory in Komari. Furthermore, she is responsible for the many small steps in the manufacturing process that are in each of our products. This begins with cutting the materials and ends with the application of the price tags. As if this was not enough, she also takes care of the physical well-being of our velvet paws.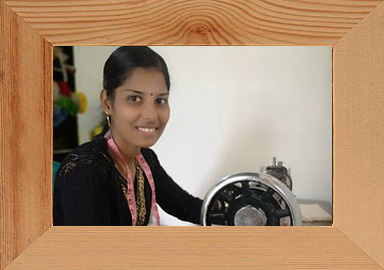 Tharshini's
Perseverance paid off. More than once she asked for work, and we are now happy to welcome her into our team and train her in the production of jute bags.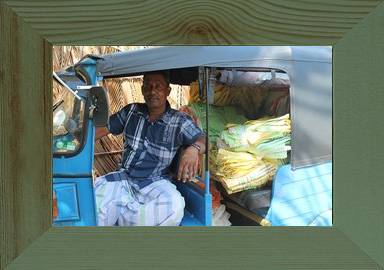 Thastakeer
is our longtime friend and helps us with many things. You rarely see him without his Tuk Tuk, because he is without doubt the King of Transport. He collects the rice and jute bags for us and does the weekly shopping. Every week he comes with his fully loaded Tuk Tuk to the manufactory in Komari to deliver all the finished products that our seamstresses in Pottuvil make. Of course, he returns fully loaded again to supply our tireless employees in Pottuvil with new materials.
He has been with Rice & Carry since the first bag in 2012 and quickly convinced his daughter Samsath to sew bags from rice sacks. She still does so today and can claim to be the first employee of Rice & Carry!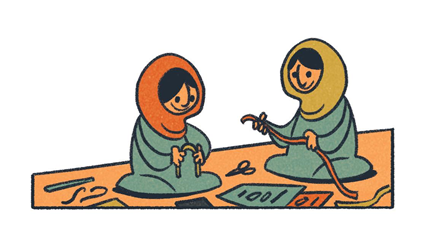 After Samsath started, Hamsuna, Salma, Thaj & Hajitha from Pottuvil soon joined the Rice & Carry Initiative. Fortunately with great success and they deserve our thanks for their passionate work and their faith in our idea, which many found absurd at the beginning. All seamstresses from Pottuvil, which is 20 km away from Komari, work from home and have become absolute specialists in our products made of rice bags!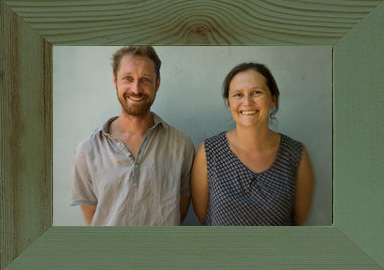 Susi & Henry
are the owners and initiators of Rice & Carry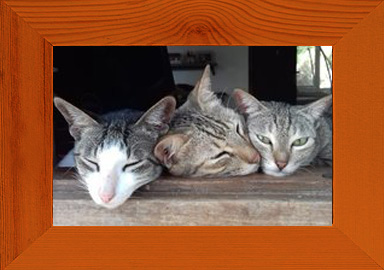 Telef, Larry & Frau Momsen
are our adorable cats that surround the employees of Rice & Carry every day. Originally hired for pest control, it soon became clear that their strengths lie more in sleeping and purring….