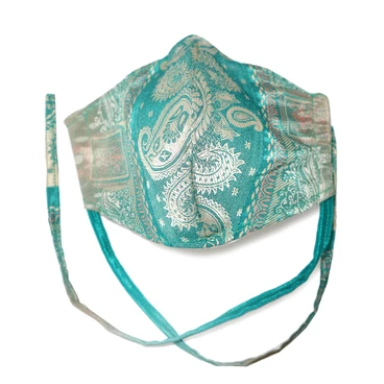 Face Mask
Common in Asia for a long time, this type of face covering only became common in the West with the outbreak of the Corona pandemic and unfortunately also often obligatory.
For those who have had enough of disposable masks but still need a mask, we have something here: upcycled-style mouth-nose masks made from old saris.
The masks are cut from recycled saris, so each mask is unique. Design and colours vary depending on the mask, only the inside is always made of natural, woven cotton fabric. By means of the wire bow above the nose and the individually adjustable band, our mouth-nose masks can be adapted to any face shape, so that they fit the face as well as possible.
The continuous band means they can also be worn around the neck and are quickly ready for use again. There is an opening at the bottom through which a filter can be inserted. They are available in three sizes: S, M and L. We recommend size S for children and young people, M and L for adults, whereby M usually fits women and L for men. However, the size is of course also dependent on the shape of the face and body size.
Since the masks are an upcycled product, each one is unique. Due to the large variety of colours of the different saris, we offer the masks as a surprise product, which means that there is no possibility to choose a colour in advance.