Waste Collecting & Recycling, handmade
For us, not everything revolves around rice and jute bags, but also recycled plastic.
In Sri Lanka, plastic is a big problem and causes permanent pollution of the environment.
We want to set an example and fight against plastic waste to prevent further pollution of the oceans and the paradise landscape in Sri Lanka.
With the help of USAID and many dedicated people from Arugam Bay, we have managed to set up a recycling station, where we first separate the collected bottles from their lids as they are recycled separately.
The caps are crushed in a machine and the plastic bottles are pressed together. The pressed bottles are then tied into a large package and transported to a recycling plant in the capital of Sri Lanka. This transport route is not only very long, but also very expensive.
Since we are located in the east of Sri Lanka and almost the whole Sri Lankan life takes place on the west coast, we are forced to drive the bottles once across the country, since the only recycling plant in Sri Lanka is also located in the west.
Of course, the transport has to be paid for – if you think about how much plastic waste there is, you can probably imagine how often we drive to the recycling plant and how expensive it is at the end of the day.
In order to better finance all the transportation costs, we started to produce recycled plastic products from the unscrewed and crushed bottle caps.
Meanwhile our assortment consists of eco razors, clothespins, buckles and wax combs for surfboards. All products are the only fair trade products made from 100% recycled plastic, verified by the WFTO.
In order to constantly expand our assortment and to secure the transport of the bottles, we are working on new product ideas every day.
Especially our products made of recycled plastic are very important to us, so we are happy about every sale of a product and the associated support of our recycling project.😍
Tip for your home: Put the lids of bottles or tetrapacks directly into the plastic waste separately. This way, your recycling will also be more efficient!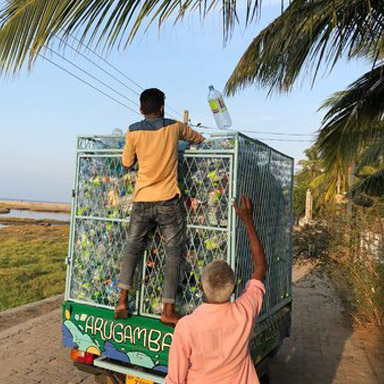 17. September 2020