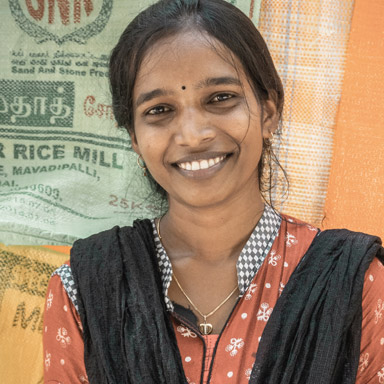 We make women strong
After living in Sri Lanka for some time, we soon noticed that women often "function" as housewives – looking after the children, cooking and generally taking care of the household. This is not uncommon in the more rural areas of Sri Lanka, as the country has predominantly traditional role models and only the man goes to work, as he is mainly trained or learns a craft skill.
Since our manufactory is located in a very rural part of eastern Sri Lanka, we soon realized that we wanted to give women in particular a perspective.
We offer a secure job and a fair, regular income, allowing the women to gain a bit of independence, to support themselves or family members and not to depend on marriage if they do not want to.
In addition, our employees can make new social contacts outside the family and the village community. Now we are very proud that more than 80% of our employees are female.
Even employees who come from farther afield have the opportunity to work with us thanks to a sophisticated system – namely from home.
Our dear driver Thastakeer drives materials to our employees' homes so that they can sew the products in their own homes. After the products are finished, Thastakeer picks them up again and brings them to our factory.
In our company, learning from each other and mutual support are at the forefront. Therefore we are pleased that even women who have no experience in the tailoring trade can learn this from us.
We take a clear stance against wage dumping, which is why we pay every employee a salary above the local minimum wage. Working hours are adhered to and the manufactory is closed on Sundays and holidays. These guidelines are our first priority, as we are a fair company and strictly follow the principles of the World Fair Trade Organisation. Discrimination has no chance with us – hiring is independent of origin, gender, religion and physical or mental impairment. We welcome every individual who shares our values and wants to contribute actively! 🥰
16. September 2020